It is with great pleasure Global Policy Next Generation invites applications for a Deputy Editor to join our team. Now in its fourth year, GPNG is an annual special issue of Global Policy dedicated to early career researchers doing cutting edge work worldwide.
As an editorial team, we seek to bring to the fore ideas and research that are at the leading edge of policy work regarding issues that are multilevel – local and global, and micro and macro in size and impact. Importantly then, as an editorial team, we place no restrictions upon the content of submissions other than their relevance and impact to current and future policy issues worldwide. Our articles have varied widely, from civil conflict to the application of law in outer space to existential risk, but are unified through their important policy relevance.
Global Policy: Next Generation goes beyond producing a peer-reviewed academic journal. It has established a platform for early-career researchers to engage with the wider community of both academia and policymaking by promoting their research through a variety of media. In addition to academic peer reviewed articles, GPNG offers early-career researchers the opportunity to publish opinion pieces, present current research via podcast interviews, and engage with academics of all experience levels in a variety of innovative ways. We also maintain an internship programme designed to provide advanced MA and early PhD students with experience in the process of academic publishing, with an eye to diversifying the academic publishing field.
As a Deputy Editor, you would be responsible for:
Reading and assessing manuscripts for relevance and suitability for peer review
Communicating editorial guidance and revisions to authors
Mentoring and supporting early career scholars through the academic journal publication process, including explaining and summarising peer review feedback
Finding and assigning reviewers qualified to assess manuscripts
Proofing preprints for formatting, layout, and other copyediting consistencies
Engaging in promotion and outreach activities, including but not limited to Twitter threads, video and podcast interviews, and conference attendance for 'meet-the-editor' outreach events.
To apply, please submit a one page cover letter and short CV (2 page maximum) detailing your relevant experience and interest in becoming a Deputy Editor to next.generation@global-policy.com with the subject line "Application for Deputy Editor" by 30 September 2022.
Candidates should be conducting a PhD in a relevant discipline or have received their doctorate within the last five years. You should be comfortable working in English. We are particularly interested in applications from traditionally underrepresented groups and candidates at institutions in the Global South. This is a remote, stipend-based position requiring approximately 5 hours per week, including a weekly meeting, although commitments may vary depending on the time of year. Details of the role and activities that GPNG entails can be found in our recent case study article published here https://onlinelibrary.wiley.com/doi/full/10.1002/leap.1474
Once applications have been received successful candidates will be invited to participate in a short editing assessment as the second stage of the process, followed by an online interview with the current Editorial team as the final stage. Any questions regarding the application process can be sent to next.generation@global-policy.com
---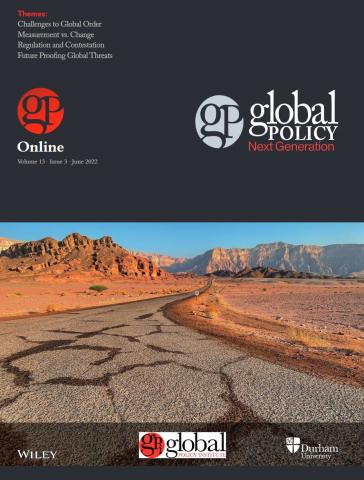 Global Policy: Next Generation is an annual issue from Global Policy. This multi-disciplinary, peer-reviewed publication provides a platform for graduate and early career researchers to publish research on-par with the most rigorous of academic journals. We seek out the next generation of groundbreaking research in global policymaking and broaden horizons in terms of both content and authorship.
The third edition of Global Policy: Next Generation (GPNG) emerges into an increasingly multipolar global order with deepening localisation and regionalisation triggered by the twin forces of the COVID-19 pandemic and rising nationalist sentiments across the world. The edition's five re-search articles and two policy insights grapple with the policy challenges emerging from the cracks appearing in the pre-existing international order. They offer a forward-thinking lens for developing proactive and comprehensive responses across different levels of multilateral, regional and global governance. Consistent among the articles is the urgency to broaden perspectives beyond national interest.
---
Editorial  - Gregory Stiles, Anastasia Ufimtseva, Janina Pescinski and Katharine Petrich
Research Articles
You're Fired! International Courts, Re-contracting, and the WTO Appellate Body during the Trump Presidency - Giuseppe Zaccaria
'It Takes Two to Tango': South–South Cooperation Measurement Politics in a Multiplex World - Laura Trajber Waisbich
Does Space Law Prevent Patterns of Antarctic Imperialism in Outer Space? - Henry Padden
Driving Global Convergence in Green Financial Policies: China as Policy Pioneer and the EU as Standard Setter - Mathias Lund Larsen
Women's Empowerment Without Power: Strategic v. Practical Interests in SDGs and the Voluntary National Reviews - Nancy Y. Kim, Yoorim Bang and Eun Mee Kim
Policy Insights
A UN Treaty for Marine Biodiversity: Establishing Environmental Policy Integration in Global Governance - Dona Barirani
Ensuring Market Supply Transparency for Personal Protective Equipment: Preparing for Future Pandemics - Nadia Garcia-Santaolalla and Kyle de Klerk
---
Read also: