Women's Football is about Politics, too. Why are Teams from Central and Eastern European countries absent from England's 2022 UEFA European Women's Football Championship?
Women's Football is about Politics, too. Why are Teams from Central and Eastern European countries absent from England's 2022 UEFA European Women's Football Championship?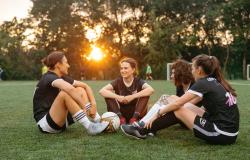 As all sports, women's football is in its essence and backgrounds political. The Women's European Football Championships in England 2022 are no exception. They clearly manifest the different development patterns of Western and Central Eastern Europe. Dariusz Wojtaszyn and Roland Benedikter provide five reasons why Central Eastern European Women's teams are lagging behind their Western counterparts and draw the perspective for policy.
At international women's football tournaments, national teams from Central and Eastern Europe (CEE) seem to rarely appear. This is also true for the Women's World Cup, the most important global football event, which is embedded in both national economies and politics and cultural and ideological symbolism. Although intended as an objective demonstration of the standard of football in individual countries, women's teams from the former Eastern Bloc (1945-1991) have only participated in the World Cup twice: In 1999 and four years later in 2003, the Russian team participated in the championships held two times in a row in the USA. On both occasions, the Russian women managed to pass the first group-round, to then drop out in the quarterfinals, in 1999 after losing 0:2 to China, and in 2003 after losing 1:7 to Germany.
The situation is similar with regard to the Women's European Championships, where no country from the region has ever been successful. To date, no women's team from Central and Eastern Europe has won a medal at a championship event. The same pattern is seen in club football – no women's club from the region has ever succeeded in winning a European cup competition. The biggest achievement was the participation of the Russian women's team Zwiezda 2005 Perm (Звезда-2005 Пермь) in 2009 in the final of the UEFA Cup (predecessor of the Women's Champions League). There it lost to FCR 2001 Duisburg 0:6 and 1:1.
Why does women's football appear to have developed much quicker in Western Europe than in Eastern Europe? Is it a question of finances or time?
It is difficult to pinpoint a single reason for the disparity between Eastern and Western Europe as many factors contribute to it. We would mention predominantly five reasons.
First, history. In terms of the origins of women's football, it arrived and developed relatively quickly and vigorously in the eastern part of Europe. It was in these territories that European women began to play football at the beginning of the 20th century. The first games had only an unofficial and private character. Before the First World War, however, there were already three official teams in the Moscow region. The situation was similar in Poland, where the first women's teams were formed after the achievement of national independence in 1918: the first in 1921, with more added gradually in the following years.
Second, there is politics. The problems of women's football may be due to the difficulties of establishing women's football in the socialist era. During the socialist period, women's football developed in stages that corresponded to the different political-ideological eras of the communist system in Central and Eastern Europe. For example, the Czechoslovakian national team was established as early as 1968, making it one of the first women's national teams in the world. However, this was only possible during a period of political breakthrough – the anti-communist agitation of the so-called Prague Spring.
Third, there are gender stereotypes. The changing role and importance of women's functions in society and the family played a major role. While modernization led to women's emancipation in sports, many continued to consider Central and Eastern Europe in essence rather traditionalist and patriarchal societies. While overall the picture is more differentiated depending on the region, it is evident that the communist era failed to establish gender equality, which was not a political priority since, as the conviction went, everyone was already completely equal under communist rule (which, of course, was not the case). After the Czech Republic, Estonia, Hungary, Latvia, Lithuania, Poland and Slovakia joined the EU in 2004, a short spring of progress in women's equality began that ended with the "conservative" turn in many CEE countries one decade later. Nevertheless, the social and political situation in women's soccer did not change fundamentally, and sponsoring did not substantially improve during this period. While accession to the EU did not particularly affect the self-image or the performance-related development of women's soccer in CEE, it did create the conditions for improving the position of women in the societies of the new member states.
In the past couple of years, however, with ultra-conservative parties often accused of "state capturing" and "Caesarean politics" (Pawel Karolewski, Robert Sata), gender equality has regressed in Central Eastern Europe, particularly in Hungary, Poland and Slovakia. As a side effect, this also led to a diminishing public presence of women's sports in the country's attention economy. Given that women have a minor place in today's Central Eastern European societies, it is no wonder that their teams lack equipment, support and professionalism in the Western sense.
Additionally, women's emancipation in Russia under the Putin regime has regressed virtually to the Stone Age, with women repressed in many ways, contested women's activists (such as Pussy Riot) jailed and few women in leading positions. It was exaggerated and sexist when UK premier Boris Johnson in June 2022 asserted that "if Putin were a woman he would not have invaded", and it remains indicative of the stereotypes ascribed to women in Europe today. With anti-globalism, re-nationalization and de-internationalization, Central and Eastern European nations have moved backwards gender-wise in the re-globalization process, and the football industry is mirroring this societal involution.
Fourth, the situation was compounded by economic challenges that affected all sectors, with football no exception. In many ways, after the end of the Cold War and the collapse of the Eastern Bloc in 1991, the economy of the geopolitical area reached hour zero, and consequentially sport, including football, became one of the most neglected areas of social life. The economic crises in the respective countries meant that sporting activities were severely underfunded. The atmosphere was particularly bad around football, which in the 1990s was mainly associated with the excesses of stadium hooligans who mirrored and co-created political unrest, collective pessimism and general dissatisfaction. This generated a culture of neglect that to some extent has been protracted to the present day, since changing cultures is extremely difficult – also in sports.
Fifth, one must note that football in Central and Eastern Europe is much more directly and constantly politicized compared with Western Europe. In Central and Eastern Europe most fans, particularly hooligans, belong to political groups, i.e., predominantly right-wing or extreme right-wing associations. Apart from a small incidence in eastern Germany, left-wing groups of supporters are either absent or play a marginal, rather invisible role in society. Particularly for the political right, football is a direct valve for and expression of political inclinations. Although this has been predominantly a male phenomenon, it has also affected women's football.
As a combined effect of history, politics, gender stereotypes, economic shortfalls and hooliganism, currently women's football does not generate much spectator interest among Central Eastern European football fans, which translates into a lack of attracting sponsors. Low spectator interest is also reflected in a correspondingly lower remuneration for women's football. As in most European countries, it definitely lags behind men's football – not only in terms of fan and media engagement, but also in terms of financial and organizational effort. Although support for men's teams dominates across almost all Central-Eastern European sports branches, it is probably most noticeable in the case of football. This also applies to research on women's football, which, as a lack of comprehensive scientific studies on the subject shows, has been very slow to develop in CEE.
Yet despite all these hurdles, measures are increasingly emerging in CEE to improve the quality, societal standing and relevance of women's football and to promote it in the public sphere. For example, the Polish Football Association has allocated funding each year to subsidize women's football leagues and the functioning of the national team. Although these remain still significantly lower than the expenditures on men's football, they nevertheless have been steadily increasing: in 2012 they amounted to PLN 3 million (approx. EUR 700,000), while in 2019 they were already at PLN 14 million (approx. EUR 3.5 million). Although Poland is overall one of the biggest net receivers of EU money, the funds available to the Polish Football Association (Polski Związek Piłki Nożnej, PZPN) until the present day have nothing to do with EU funds. They also do not come from the state budget in any way, i.e., they are not part of public funding. Rather, they are funds generated by PZPN directly through the sale of TV rights, advertising, sponsorship, UEFA and FIFA funds, business activities, etc.
Given all these aspects, will there be any changes in women's football in Eastern Europe in the years ahead? There is a chance that this will happen. Admittedly, football is far behind other women's team sports in terms of public interest; volleyball and basketball are much more popular. Yet seen through a historical lens, over the past decades East Germany (the former German Democratic Republic GDR) has been a positive example of progress that could potentially be copied by other nations in the area. Let us not forget that East Germany was counted for many decades, in effect until 1989-91, as part of Central and Eastern Europe, i.e., of the "Eastern bloc". During the socialist period it developed in a similar way to other socialist countries, e.g., despite a relatively successful men's national team, the GDR women's national team was not established until 1989 (although the discipline had been developing since the 1960s). However, after German reunification, significant funding and structural changes in the region occurred, and women's football began to grow rapidly, even leaving men's football behind. Today, Turbina Potsdam is one of the top clubs in the women's Bundesliga. Similar efforts are underway in the Czech Republic, where Prague-based clubs Slavia and Sparta are becoming increasingly important.
Further development will undoubtedly require not only increased funding, but also the professionalization and popularization of the discipline in society. This is linked to, among other things, the development of better scientific research into women's football and more direct support by modern sports and health sciences. The Covid-19 pandemic of 2019-22 led to increasing insights on how women get sick in different ways than men, and research on the differences between the bodies and psyches of men and women has made huge progress. For example, it has induced differentiated timeframes for training (for men it is apparently better to train in the evening, for women in the morning to achieve the maximum positive effect for their bodies and their feeling of wellbeing). If all this leads, for example, to "precision medicine" that differentiates between men and women and includes a strong gender aspect, then it becomes clear that this development of science will hugely affect sport science in general, and football science in particular in the coming years. This means that there could be a more diversified push for "gender football", and departing from that, as the UNESCO puts it in accordance with the gender focus of the UNESCO grand strategy 2022-29, for "gender equality" in sports in general. It means the times ahead could be fascinating for women's football. England 2022 might just be the beginning of its next stage of evolution.
Dariusz Wojtaszyn is Professor of Modern History at the Willy Brandt Centre of Wroclaw University, Poland, Roland Benedikter is Co-Head of the Center for Advanced Studies of Eurac Research Bolzano/Bozen, Italy. Contact: roland.benedikter@eurac.edu.
They are authors of the book: Football Politics in Central Europe and Eastern Europe, Rowman & Littlefield 2021.
Photo by Anastasia Shuraeva