Ukraine, A Downturn for India
Ukraine, A Downturn for India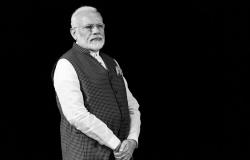 Sarosh Bana agues that while the Modi government is unhesitant in acting against its own people, it appears powerless in confronting external threats and aggression.
The war in Ukraine, which entered its 62nd day on Tuesday, has signalled India's waning influence on the world stage.
As it treads a fine line between Russia and the US-European Union (EU) alliance on this ruinous war, India is increasingly being seen as condoning Russian President Vladimir Putin's indefensible invasion of a sovereign country that is generating a massive humanitarian crisis in the process.
In its abstentions, India incongruously also finds itself bracketed with its adversarial neighbours, China and Pakistan, which strongly support Russia and have been among the clutch of countries to have abstained.
The western allies hitherto largely overlooked India's decision to abstain from voting on resolutions against Russian aggression at the United Nations Security Council (UNSC) and General Assembly (UNGA), and again on suspending Russia from the UN Human Rights Council.
EU envoys to New Delhi, together with Ukraine's ambassador, had consulted India's Ministry of External Affairs before some of these votes to urge the Narendra Modi government to adopt a stronger position on the conflict.
However, in an unexpected diplomatic slight to India during his official visit for the 11 April 2+2 bilateral Ministerial Dialogue in New Delhi, US Secretary of State Antony Blinken told a joint news conference that Washington was monitoring some recent "concerning developments" in India, including a rise in human rights abuses by some government, police, and prison officials.
That Blinken deemed it politically correct to pillory India on its perceived democratic regression attests to a decline in its international standing.
It is widely believed it will become increasingly difficult for US President Joe Biden to enlist a democracy-shunning India in alliances like the US-India-Japan-Australia Quadrilateral Security Dialogue, or Quad, which is positioned against an undemocratic China. India's inability to deal with China's cross-border invasion in eastern Ladakh in May 2020 may also undermine confidence in its ability to secure maritime boundaries an ocean away.
Biden said that within the Quad, India was "somewhat shaky" in supporting the US-led condemnation of Russia, even as Australia and Japan have been unequivocal in their rebuke. The US President went on to warn that "there is no room for excuses or equivocation". His State Department in March had reportedly recalled a cable to American diplomats that instructed them to inform counterparts from India and the United Arab Emirates, both seen as US partners, that their "position of neutrality" on the war put them "in Russia's camp".
The formation last September of the trilateral security alliance for the Indo-Pacific, called AUKUS, the acronym of its founding countries, Australia, the UK and the US, also complicates India's dependability in the US-led campaign against a strident China in this region. To signal the UK's outreach into the region, the Boris Johnson government dispatched a carrier strike group into the contested South China Sea, with plans to permanently assign two ships there.
These moves may presage an eventual supplanting of India by the UK in Washington's scheme of things, signalling the Biden administration's waning dependence on India in rebalancing the power equations in the littoral.
The global community has stood witness to the Modi government's abject capitulation to China's cross-border belligerence, its creation of humanitarian crises of epic proportions by a grievous mishandling of the lockdown and of the second COVID-19 wave, its draconian vendetta politics whereby it has unleashed its law-enforcement agencies to crush dissent, and its shrill right-wing Hindu agenda that has polarised India and shifted focus away from governance.
The perception gaining ground worldwide is that while the Modi government is unhesitant in acting against its own people, it is powerless in confronting external threats and aggression.
At the post-2+2 dialogue news conference, Blinken was speaking against the backdrop of the Country Report on Human Rights Practices brought out annually by his own State Department that has for the past two years stopped just short of accusing the Modi regime of crimes against humanity.
The media conference was jointly addressed by Blinken and US Defence Secretary Lloyd Austin, alongwith India's External Affairs Minister S. Jaishankar and Defence Minister Rajnath Singh.
That perception of Modi-governed India has changed is evinced from the fact that just last July on his official visit to India, Blinken had chosen to paper over the political turbulence in India. Asked whether he had referred to the "backslide" in India's human rights record during his talks with Indian authorities, he had noted: "The relationship between our two countries is so important and so strong, because it is a relationship between our democracies. One of the elements that Americans admire most about India is the steadfast commitment of its people to democracy, pluralism, to human rights and fundamental freedoms." He pointed to the free press and independent judiciary as part of the "self-righting mechanisms" that he said could repair challenges to any democracy.
His observations had run counter to his State Department's Country Report released only four months earlier that pointed to "restrictions on free expression and media, including violence, threats of violence, or unjustified arrests or prosecutions against journalists". As regards the judiciary, the report observed "…but the judicial system experienced delays, capacity challenges, and corruption". It added, "The judicial system remained seriously overburdened and lacked modern case management systems, often delaying or denying justice."
The Modi government has been stigmatised by the Indian public and the Opposition for its excesses against citizens, and the world is increasingly taking note of this. Such issues have called into question Modi's own claims that he is the only leader who can provide a strong government and make India a "superpower". He has also since 2015 been speaking of India as a vishwaguru, or Teacher to the World.
The Biden administration appears unimpressed, and seems to be yet weighing the odds on defining its partnership with India. Biden has questioned the ruling Hindu right-wing Bharatiya Janata Party's Citizenship Amendment Act that seeks to disenfranchise select minorities and deport them. In her meeting with Modi in Washington last September, Indian-origin Vice President Kamala Harris did not shirk from impressing upon him how imperative it was to defend democratic principles and institutions, and to uphold human rights.
Blinken's unprecedented censure drew an unprecedented riposte from Jaishankar. "On the human rights issue, no, we did not discuss human rights during this meeting," he said. "This meeting was primarily focused on political-military affairs." He nonetheless added that the issue had cropped up in previous talks, and went on to say: "I would tell you that we also take our views on other people's human rights situation, including that of the United States. So we take up human rights issues when they arise in this country, especially when they pertain to our community."
As Indian-origin Harris excoriated Modi in September, Geneva-based World Health Organisation (WHO), whose Chief Scientist is Indian clinical scientist Soumya Swaminathan, called Modi's bluff on his government's handling of the coronavirus. In his online 'State of the World' address to the World Economic Forum in January, Modi had boasted that "(India) has saved the world, entire humanity, from a major tragedy by effectively controlling coronavirus".
The New York Times, however, revealed on 16 April that the publication of a WHO survey of the pandemic was being delayed by a defiant India as the UN health organisation had computed 15 million deaths from COVID-19 by the end of 2021, in contrast to the figure of six million reported by countries individually, but more pertinently had estimated India's toll at 4 million when the country officially claimed a total 483,178 virus-related deaths.
The second wave of infections struck India more treacherously than the first, swelling the country's caseload to the highest globally. Many believe it resulted from the Prime Minister's snubbing pleas to postpone elections in five poll-bound states on fears they would be "super spreaders" of the virus. Modi and other leaders held mass rallies where almost all, including themselves, were without masks and social distancing, though he himself admonished the public, "If you are careless and going out without masks, you are putting yourself, your family, your family's children, and the elderly in great trouble." He similarly rejected appeals for calling off the religious kumbh mela festival – the largest congregation on earth, with usual turnouts of 50 million – in April 2021.
These events were held even as almost half the country was under strictures of the Disaster Management Act to break the chain of virus.
Modi had even mocked health specialists who had foreseen India to be the worst-affected country, with two million deaths from the coronavirus. "Today, India is among countries that have succeeded in saving the maximum lives," the Prime Minister said early last year, weeks before the virus's catastrophic resurgence. "The country, which comprises 18 per cent of the world population, has saved the world from disaster by bringing the situation under control."
Pegging India's actual COVID-19 toll at 3.2 million, a study published in Science journal in January noted; "India's reported Covid death totals are widely believed to be under-reports, because of incomplete certification of Covid deaths and misattribution to chronic diseases and because most deaths occur in rural areas, often without medical attention."
With these odds staring him in the face, it was noteworthy that Modi heeded Western opinion and telephoned Putin, urging him to negotiate a settlement with the Western powers, when he himself has all along avoided identifying China as the aggressor, and refrained from raising the issue by calling Chinese President Xi Jinping, which many Indians believe would have helped defuse the border impasse. New Delhi reportedly also urged Washington to avoid mentioning China's border intrusions in Indo-US joint statements so as not to "provoke" Beijing.
Sarosh Bana is the Executive Editor of Business India, published from Mumbai, Regional Editor, Indo-Pacific, of Germany's Naval Forces journal, and India correspondent of Sydney-based cybersecurity journal, Asia Pacific Security Magazine.
Image via Flickr: Trump White House Archived Public Domain