What a Difference Seven Years Make: G7 Leaders Then and Now
What a Difference Seven Years Make: G7 Leaders Then and Now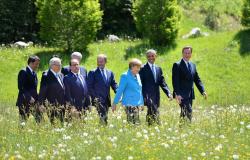 International Media Centre, G7 Schloß Elmau Summit
The forty-eighth summit of the Group of 7 (G7) is taking place in the Alpine retreat of Schloß Elmau in Bavaria, Germany. This is the same venue that was chosen to host the G7 leaders seven years ago, but this may well be where the similarities begin and end.
There is little doubt the leaders attending this summit will make the utmost effort, as they do at every summit, to foster a sense of unity and present this to the world, especially in the face of Russia's aggression in Ukraine. This continued unity of purpose in response to the Russian invasion will be a key part of the media-facing presentation of the summit, undermined only by the differences between the leaders, particularly the host state Germany.
In terms of the political optics of the summit, an important (if not the most important) tool of communication is the traditional family photo of leaders that is taken at each summit. Rewind seven years to the forty-first G7 summit in Schloß Elmau and the German hosts stage-managed a bucolic series of photographs of the leaders redolent of The Sound of Music.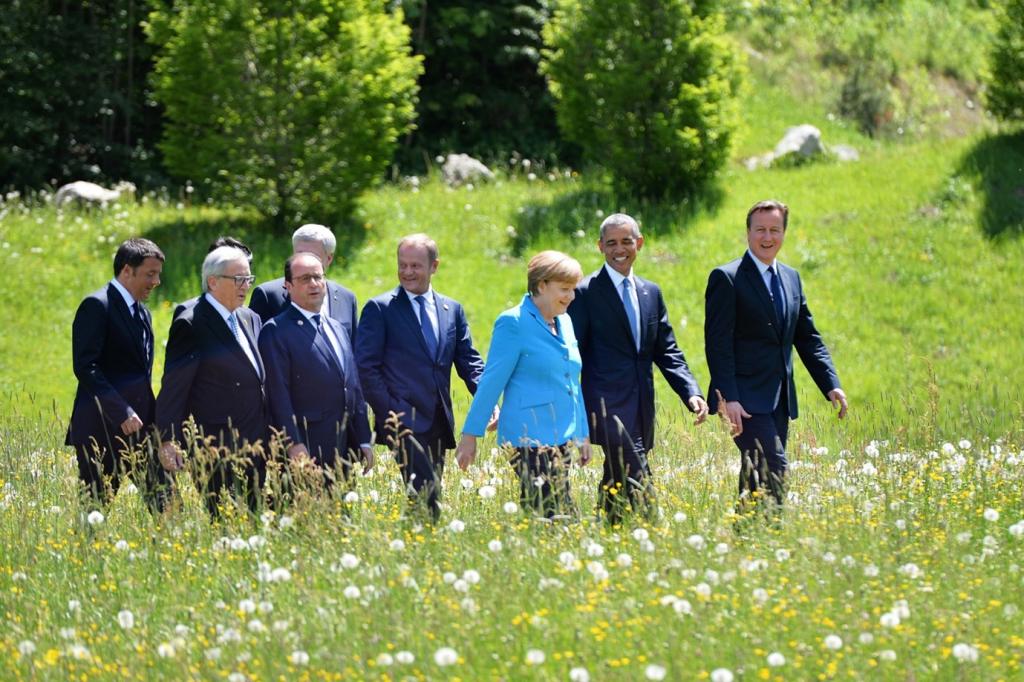 Happier times? The G7 leaders' family photo, June 2015
Looking beyond this idyllic and carefully stage-managed photo opportunity from the vantage point of today, what we have here are a group of elected leaders, including some big beasts, who were for the most part confident and secure in their positions. As host, Angela Merkel quite rightly took centre-stage. She was in the tenth year of her chancellorship and had already hosted a G7 summit in Heiligendamm in 2007. To her right, Barack Obama was coming towards the end of his second term as president and few had a sense of the turbulence to come. Although the Democrats had lost control of the Senate the previous year, Obama's position and reputation as an international statesman was secure.
Today, we consider David Cameron to be one of the worst postwar British prime ministers. However, this photo was taken in June 2015, a month after he had won an unexpected electoral victory that secured a Conversative majority and brought the five-year coalition with Liberal Democrats to an end, and a year before the Brexit referendum that sealed his reputation. Happier times, indeed. Obscured in the photo but equally secure in his position was Japanese Prime Minister Abe Shinzō, who was in the middle of what would become the longest prime ministerial tenure in Japanese history. Canadian Prime Minister Stephen Harper was in the final year of his decade-long period in office. The exceptions appear to be one-term President of France François Hollande and typically short-lived Italian Prime Minister Matteo Renzi.
If a week is a long time in politics, then seven years must represent an eon. The 2022 G7 family photo to be taken today will be dominated by leaders who are politically wounded or inexperienced in global summitry. It is just over six months since Olaf Scholz became German chancellor and this will be the first time for him to not only host but also attend a G7 summit. Similarly, Japanese Prime Minister Kishida Fumio is experiencing his first G-summit at the leader's level, having assumed office in October 2021 and only attended the Rome G20 virtually. At home, his cabinet's approval ratings dipped below 50 per cent last week and almost match his disapproval ratings. Kishida faces a tricky Upper House election next month that Japanese voters might use to voice their discontent over the rising cost of living.
US President Joe Biden is optimistically talking the talk ahead of November's mid-term elections but might well be a hostage to fortune in light of poor approval ratings and the tumultuous recent Supreme Court ruling overturning access to abortion in the United States. Finally, the clown prince of British politics, UK Prime Minister Boris Johnson. At the beginning of the month, he unconvincingly navigated a vote of confidence in his leadership by his own party. Last week, he lost two parliamentary seats in one day. The true-blue voters of Tiverton and Honiton, one of the safest Tory seats in the country, chose to punish the party for a string of scandals too sordid to repeat here by handing the seat to Liberal Democrats, while the erstwhile 'red wall' seat of Wakefield yet again demonstrated the weakness of a prime minister without a clear political direction.
The Franco-Canadian bromance of Emmanuel Macron and Justin Trudeau appears at first glance to provide a counter-narrative as both are long-term summiteers, attending their seventh summit. However, Trudeau heads a minority government, which relies on a supply-and-confidence agreement in the House of Commons, and is facing challenging approval ratings. Macron has just come through a presidential election that asked more questions than it answered about the divisions in French society, and last week lost a parliamentary majority. Ironically, Mario Draghi appears to be in a relatively secure position, but as a technocratic leader without a direct democratic mandate would anybody place bets on his long-term future?
Will it be smiles all round for the cameras? A united face towards a chaotic international scene? Or will the domestic divisions that trouble the leaders at home also shape the unity of purpose that was present seven years ago when the political big beasts strode the Bavarian mountains. It makes us wonder what we can realistically expect from this summit.
Hugo Dobson and Greg Stiles
Image CC BY-NC-ND 2.0 by Arron Hoare.