Will COVID-19 Reshape Global Order? Nepal Shows: Not So Fast
Will COVID-19 Reshape Global Order? Nepal Shows: Not So Fast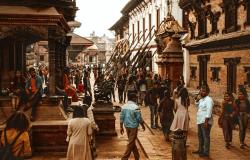 Several publications argue that the pandemic will reshape global order to China's advantage. Julia Strasheim argues that recent dynamics in Nepal demonstrate some of the obstacles to this argument.
The COVID-19 pandemic represents an unprecedented challenge to public health and the world economy. In recent weeks, a number of publications argued it will also have a lasting effect on global political order. What we are witnessing, they say, is a decline in US global leadership with the Trump administration being both unwilling and unable to coordinate an international response to the crisis. China, at the same time, having prohibited reporting and delayed measures that could have prevented the global spread of the virus, seems to have turned the narrative to its advantage and now presents itself as the global leader in fighting the pandemic.
A closer look at Nepal shows: it's not that simple. At first glance, Nepal is a most-likely case for China getting the upper hand in a global power shift. Nepal joined China's Belt and Road Initiative in 2017 and has since grown heavily dependent on its northern neighbor. But here, China's heavy-handed approach at controlling the narrative has met a free press, weak state, and local anger.
The COVID-19 pandemic in Nepal
As of mid-April, Nepal has only a select number of confirmed COVID-19 cases. But experts argue that the low number of infections is likely because only a few thousand tests have been conducted in a country where diagnostic testing is only available at two hospitals in the capital Kathmandu. In March, a woman with symptoms died after four hospitals had refused to test or treat her, saying they did not have the protective equipment needed to ensure the safety of health workers.
Nepal's government issued a country-wide lockdown on 23 March, suspending long-distance bus travel and international flights and sealing off borders with India and China. This currently leaves hundreds of Nepalese migrant workers stuck in India, often without food and shelter.
The authorities also shut down Mount Everest for the rest of the climbing season, and suspended the tourism campaign Visit Nepal Year 2020. With an economy that is heavily reliant on tourism and remittances, and that is still recovering from a decade-long civil war and deadly earthquakes, COVID-19 may have disastrous consequences for the wellbeing of already vulnerable people.
China has been dominating the geopolitical game in Nepal…
Nepal has traditionally sought close ties to India and to Western donors, but the year 2015 marked a key geopolitical turnaround moment.
Following earthquakes in April and May 2015 that killed almost 9,000 people, Nepal's political leaders adopted a new constitution that was widely criticized for hurting the rights particularly of minorities that live north of the Nepal-Indian border. To support the anti-constitution protests that ensued, Delhi unofficially imposed a months-long border blockade, starving Nepal of vital supplies like fuel or medicine.
China seized the fall-out between Kathmandu and Delhi to present itself as the generous neighbor. Nepal's prime minister KP Oli signed trade deals with Beijing in March 2016 and joined the BRI in 2017. That year, Oli was also reelected as prime minister, having campaigned on an anti-Indian platform while promising closer ties to China. His victory, and the merger of his party with former Maoist rebels to create the Nepal Communist Party (NCP), was seen as a foreign policy victory for Beijing. In 2019, Xi Jinping became the first Chinese president to visit Nepal in over 20 years. He and Oli signed various deals, including one for the construction of a rail link to connect Tibet and Kathmandu. Xi also pledged 21 million USD in military aid, deepening its links with Nepal's security sector. A first joint military exercise had taken place in 2017, a second one in 2018 – only days after Nepal pulled out of a joint drill with India at the last minute.
These developments also come at the expense of the US role in South Asia. Never before was this as clear as in the botched messaging on the 2019 US Indo-Pacific Strategy. On paper, the strategy seeks to expand the US defense relationship with Nepal, focusing on defense professionalization or counter-terrorism. But senior leaders of the NCP say it seeks to pull Nepal into a military alliance targeted at China and should thus be opposed. The US Embassy was quick to deny this, but an exceptional statement by China's Ministry of Foreign Affairs shows the latter's political pull in Nepal: it cites the co-leader of the NCP with saying that Nepal "disagrees" with the Indo-Pacific Strategy and "opposes" any attempt of the US to contain China's rise.
… but now faces obstacles in controlling the COVID-19 narrative.
Despite China's rise, three recent dynamics in Nepal show how difficult it will be for China to exploit the situation and present itself as the global leader in fighting the pandemic.
First, China's heavy-hand approach at such self-promotion has met a vibrant and vigilant press in Nepal that, although under pressure, is outspoken against what it calls anti-democratic bullying by the northern neighbor. In February, The Kathmandu Post, one of the largest English-language dailies, republished an article criticizing China's secrecy on the virus alongside an illustration of Mao wearing a surgical mask. In what journalists called a remarkable move breaching diplomatic protocol, the Chinese Embassy called the piece a "malicious" and "deliberate" smear of the Chinese people. In response, a group of 17 Nepali newspaper editors released a strongly worded joint statement saying that Nepal's constitution guarantees press freedom and that they were "committed to exercising and protecting it." They were joined by diplomats and civil society groups.
Second, the impact of China's virus-earmarked aid to Nepal has thus far been hampered by a weak state, government corruption, and party infighting. In its 2015 constitution, Nepal adopted a new federal system and has yet to put in place effective governing mechanisms. The resulting lack of coordination between different levels of government impedes political responses to the virus, as the failure to establish effective quarantine facilities along the border demonstrates.
In April, controversy then erupted over a government contract for purchasing medical equipment from China that was awarded without competitive bidding, at high cost and amid concerns over the quality of testing kits. The Ministry of Health went as far as directing hospitals not to use the kits imported from China, albeit they signify 90 percent of all kits available in Nepal. The Kathmandu Post also blamed its web developer of removing an article that had accused several individuals with government ties of corruption in the procurement process.
Third, several BRI countries have reported a turn in public opinion against China as a result of its domestic and international response to the pandemic. Also in Nepal, dangerous and often racist rumors appeared on social media in January and February that claimed that Nepalis were immune to the virus and that China's air pollution and poor hygiene were to blame for its spread. In March, newspapers reported clashes between local residents and Chinese construction workers for a hydropower plant in the Lamjung district. Locals had blocked the workers from entering their village and accused them of bypassing lockdown rules – in times where Nepal keeps its very own workers locked out of the country. And in April, customs officials worried that Nepalis might soon be unwilling to purchase products imported from China.
Nepal thus demonstrates some of the obstacles to China's self-promotion in times of the COVID-19 pandemic. Most importantly, however, Nepal cannot fight the virus alone, and cannot alleviate its economic, political, and public health consequences if it is dependent on assistance from only one country. It is therefore good that Nepal's more traditional allies, including the US, were quick to react and send help, and they should continue to do so.
Dr Julia Strasheim is Deputy Managing Director and Program Director for European and International Politics at the Bundeskanzler-Helmut-Schmidt-Stiftung as well as Research Associate at the GIGA German Institute of Global and Area Studies in Hamburg.
Photo by Bimal Ranabhat from Pexels