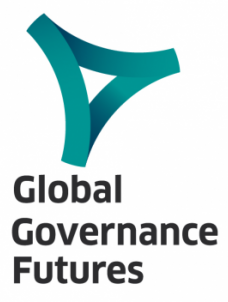 The Global Governance Futures – Robert Bosch Foundation Multilateral Dialogues (GGF) programme brings together exceptional young professionals to look ahead to the year 2035 and think of ways to better address global challenges.
At the heart of the GGF philosophy is our belief that the greatest asset of the programme lies in the diversity of our fellows and the collective energy they develop when they discuss, debate and engage with each other during the dialogue sessions. This is why the fellows occupy the center stage, setting GGF apart from other programmes for young professionals. The fellows play an active role in shaping the agenda of their respective working groups. The working process draws on the GGF method and brings together the unique strengths, experiences and perspectives of each fellow as they work toward a common goal. The GGF team at the Global Public Policy Institute (GPPi) works closely with the fellows to help them achieve their goals and, in the process, cultivate a community that will last well beyond the duration of the programme through a growing and active alumni community.
GGF 2035 will assemble 27 individuals from Brazil, China, France, Germany, India, Indonesia, Japan, South Africa, and the United States (three from each country).The GGF fellows will form three working groups, each one focusing on one of three key global issues. During the GGF 2035 round of the programme, the fellows will focus on the futures of climate-related conflict, media and information, and of the politics of inequality. Using strategic foresight instruments, including scenario planning and risk assessment, the working groups will craft scenarios for their respective issue areas. Based on their findings, the fellows will produce a range of products – including presentations, essays, commentaries, podcasts, and interviews – that outline their scenarios for the coming decade and ways to address the underlying challenges.
The programme is supported by the Robert Bosch Stiftung.
Reports
A World Divided? Envisioning the Future of Global Inequality
By the GGF 2035 Global Futures of the Politics of Inequality Working Group
Chaos or Connection? The Global Media and Information Landscape in 2035
By the GGF 2035 Global Futures of Media and Information Working Group
The Future of Conflict in an Age of Climate Extremes
By the GGF 2035 Global Futures of Climate-Related Conflict Working Group
Op-Eds
An Unethical, Minimal, and Cruel Welfare State: COVID-19 and the Makings of a Demoralized U.S. Citizenry - Helidah Didi Ogude
Interviews
Connecting Air, Land and Sea: China's Belt and Road Initiative – A Conversation with GGF 2035 Fellow Keren Zhu
Media and Populism: Journalism in Latin America – A Conversation with GGF 2035 Fellow André Duchiade
Japan's Geopolitical Balancing Act – A Conversation with GGF 2035 Fellow Kazuhiro Nomoto
Biodiversity Affects Us All – A Conversation with GGF 2035 fellow Kathrin Ludwig
Green Inclusive Finance – Where Have We Gone So Far? – A Conversation with GGF 2035 Fellow Sheila Teta Carina
Duel Pandemics: COVID-19 and Disinformation in Indonesia - A Conversation with GGF 2035 Fellow Nurma Fitrianingrum
Connecting Locals with Newcomers - A conversation with GGF 2030 fellow Cédric Bischetti
Coronavirus Fuels India's Many Inequalities – A Conversation with GGF 2035 Fellow Rithika Nair
Between Two Epidemics: Coronavirus and Inequality in Brazil – A Conversation with GGF 2035 Fellow Felipe Oriá
The Promise of Tech: Trust, Results and Hope for a "Greenshot" – A Conversation with GGF 2035 Fellow Zach Beecher
Will COVID-19 Push Space Technologies Into the Private Sector? - A Conversation with GGF 2035 Fellow Vivien Croes
Global Warning: Climate Justice and the Media - A Conversation with GGF 2035 Fel-low Tori Zheng Cui
Beyond 'Stay Safe': COVID-19 and Inequality in South Africa - A Conversation with GGF 2035 Fellow Tessa Dooms
The Fourth Pillar: the Media and Challenges to Democracy – A Conversation with GGF 2035 Fellow Marie Baléo